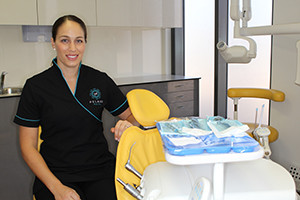 Dr Kathryn Randall
---
As the first month of being the new owners of Twins Dental Karratha draws to a close, my husband Zac and I would like to warmly thank the people of Karratha and surrounds who have visited us so far.
As many of you have noticed, we have re-named the practice "Pelago Dental" to reflect the change in ownership.  We hope that existing patients have enjoyed continued great service, and perhaps even noticed some of the changes we are making to improve your dental experience further.
New shop-front signage will be in place within the next week.  Also, in keeping up with the latest in dental technology, we have acquired a new rotary endodontic machine which, will make the process of having root canal treatment smoother and more comfortable compared to the traditional hand-filing method used by many dentists.
This "News" section of the website has been created to keep you updated with what is happening at the practice, but also to provide interesting and educational materials from time to time to help you take your understanding of your oral health care to the next level.
As the principal dentist at the practice, I believe one of the most important things is that patients understand the treatment they are having – after all it is your body and your health! At every appointment we do aim to ensure that this is the case, but the materials in this section will provide extra information for patients who may want to know more, or just want to be informed of the latest advances in dentistry.
Karratha really is a great spot, and having been in the Pilbara now for close to six years, Zac and I really think this town is the right fit for us (especially now being located only a few metres from the amazing coffee at Empire 6714!)  Together with our dental assistants Maddi and Zia we look forward to providing you with honest, professional, family-friendly dental services for many years to come!